Giving a persuasive speech is more taxing than giving an informative speech and it is something many people are scared of. There is also the problem of how to come up with persuasive speech ideas and topics to discuss that are right for you.In any case, it is somewhat difficult to get other people to see something from your point of view. On top of this, you have to stand up in front of an audience and tell them how you feel about a certain topic. Giving a persuasive speech is difficult because your aim is to change the way a person feels or thinks about a certain problem or issue.
For students who have been given the task of writing a persuasive speech, your first task is to find a suitable topic for persuasive speech. You can look at political, global, local or even humorous themes; but you do have to find a topic which will strike up the passion in you. If you are at a total loss, you always have the option of going online and looking up a list of persuasive speech topics which you can use for your speech.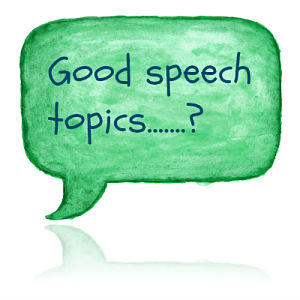 However, it is advisable to avoid controversial topics such as the current Iraq turmoil, the death penalty or abortion, for these are topics on which people have already made up their minds, and there is no point in stirring up their passions while you are giving your speech. While you will want to speak with passion on the topic you have chosen, it is better to avoid a conflict situation while you speak.
While searching among good persuasive speech topics, ask yourself what you want to achieve – do you want to inspire, motivate, inform or touch the emotions of your audience? Have a formal structure, that is, a beginning, middle and an end in your speech, for audiences like structure and it helps the speech to stick to their minds.
Do not put too much content in your speech; the best audiences experience information overload after twenty minutes; there should not be too much information for them to absorb. If you want to provide details, put it in a handout; refer to it in the course of your speech but give it to your audience after the speech is over.
It is important for you to define who your audience is, and try to analyze how best they will take in information; will they like visual stimulation, or would they just prefer to sit back and enjoy listening.
Keep your eyes and ears open and try to know the trends your audience is likely to be interested in, so that you can target your speech and build a rapport with them. You can also use personal stories, metaphors and examples to make your ideas more vivid to your audience.
First impressions are important – so have a strong opening. The closing is also important because it should reinforce the message you have put across to your audience. Use short words and active words instead of passive and avoid jargon!
Finally, here are some topics you might like to use for your persuasive speech assignment!
The case for organ donation; The need for recycling; The dangers of taking illegal steroids; Avoiding drinking or drunk driving; Global Warming – What we can do about it; Why you should become a blood donor; The dangers of gambling; Euthanasia; Avoiding junk food; Animal rights; Volunteering- What can you do about it? Ten tips for legal tax avoidance; Golf – the best hobby in the world or a complete waste of time? Can drugs reverse the ageing process? Princess Diana – a cover up? Internet – the death of the newspaper? Sex, drugs and rock and roll – good fun or a major health hazard? Dogs-wolves in the living room or man's best friend? Seven easy ways to simplify your life; Half man – half robot: Should we be scared?
There are many interesting persuasive speech topics and persuasive speech ideas to choose from as there are members in your audience. So hone your speech presentation skills and find out about the nature of your audience in order to create the speech that will sustain their interest.