With the increasing emphasis on knowledge sharing in most modern business companies, the need for effective and comprehensive business presentations become more important. Every working minute, thousands of business presentations are being shared all throughout the world with crucial purpose to sell products, build business relationships, and plan out strategies for corporate growth. However, many business presentations are still ineffective in communicating to their target audience that resulted in losing investments, poor planning, and wasting a lot of time and effort.
Business presentation training can help individuals make more effective business presentations that would convince their audience, influence the way they think, and help meet the goals that are set by the business plan. Business presentation skills training focus on integrating key factors such as the objectives of the presentation, speaking skills, physical environment, audience and material in order to come up with a more effective business presentation.
These factors are very important in maximizing the end result of a business presentation. Clarifying your objective can help you decide beforehand what particular course of action that you would want your audience to take after you make your presentation. Remember to state the objectives clearly and distinctly in order to help your audience make informed choices based on quantifiable and measurable propositions. Deciding on your objectives will also help you state the challenge or call to action that you would propose to them after your presentation. The communication skills of the speaker are also important in making an effective business presentation. A good speaker has the ability not only to share his ideas concisely and articulately but also to convince his audience to think the same way as he does.
The condition of the physical environment of the venue where you will make a presentation is also an important factor in building up the effectiveness of a business presentation. Stand at a place where you can be seen and heard by your audience. Avoid unnecessary delays by checking ahead of time the audio-visual equipment that you would use. It would also help to remind your audience to switch off their mobile phones or at least switch it to silent mode in order to keep an environment conducive to listening and discussion. Likewise, it is very important to know your audience beforehand. Try to do some research on their background, their interests and biases as well as their perspectives and the key points that they would want to hear from you.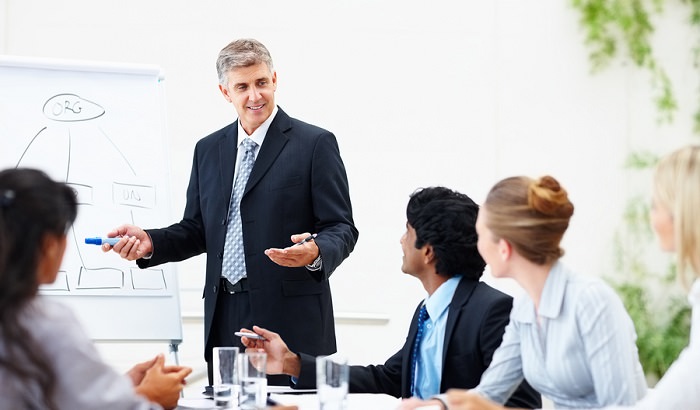 There is no other basic way in creating business presentations more effectively than to keep it simple. State your key ideas in short and concise phrases that could clearly state your ideas. Limit to three to five talking points and always include supporting facts such as statistics, survey data, research output, or case studies for each point. You can also illustrate your ideas with stories and examples.
You can make an effective business presentation by using a strong introduction and ending it with a good conclusion. You will learn that in any presentation skill training course. Closely monitor your talking time and be enthusiastic and passionate while sharing your ideas and be creative in using a wide variety of presentation tools and visual aids. Business presentation training can help your audience comprehend your ideas easily and come up with informed decisions based on your propositions. Finally, there is no substitution to spending enough time to practice your business presentation so you better understand the things and the means that you would want to bring to your audience.